Uptown Bar at Jumeirah Beach Hotel in Dubai
Review
Uptown Bar at Jumeirah Beach Hotel in Dubai
Beautiful sunset, a "loungy" atmosphere and delicious bar bites
Published: November 25, 2019
Uptown Bar offers a beautiful sunset, a "loungy" atmosphere and delicious bar bites. Here's our full review:
Jumeirah Beach Hotel have one of the first rooftop bars in Dubai. On the 24th floor of this luxurious 5-star hotel, you'll find Uptown Bar. A perfect rooftop for a sundowner with some cocktails and bar bites.
VIEW AND ATMOSPHERE
When stepping out on the terrace you'll meet by grand panoramic views of both the downtown skyline and out over the ocean and Jumeirah Beach with Burj Al Arab as a mighty backdrop. And it's over the ocean where the sun sets during early evening/late afternoon. Make sure to time your visit for this.
The vibe at Uptown Bar is a little bit more relaxed and loungy during the first couple of hours and then starts to get livelier and party friendly the longer the evening gets. In other words, a perfect rooftop for some evening cocktails and bar bites. Dress for success as the people here is very trendy and well dressed.
FOOD AND DRINKS
For drinks, the menu is big and with a big variation. There's both a good selection of wines, beers and cocktails available. I would suggest trying some classic cocktails as Negroni, Gin & Tonic and Old Fashion as all of them tasted great.
For the hungry ones, there's a small bar menu with some delicious bar bites to order. The chicken wings were some of the best we've ever had. Also, extra plus for the sliders (mini burgers) and deep-fried shrimps.
CONCLUSION
We can recommend Uptown Bar to everyone visiting Dubai. This is one of the best rooftops in Dubai and also one of the first. Try some classic cocktails and bar bites during sunset, and you'll have an amazing start of your evening.
Address: Jumeirah Beach Hotel, 3 Umm Suqeim, Dubai
• Beautiful sunset
• Loungy vibe
• Delicious bar bites
• Ocean and skyline view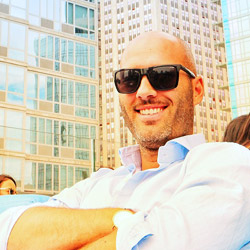 Written by:
Hans Ebenman
- Co-founder, CEO & rooftop expert at The Rooftop Guide