Review
TOMO Dubai
Upscale Japanese rooftop restaurant with a breathtaking skyline view
Published: November 23, 2019
TOMO Dubai is an upscale Japanese rooftop restaurant with a breathtaking skyline view, great service and a delicious Japanese cuisine.
This classic rooftop restaurant and bar in Dubai is located on top of the luxurious and famous hotel Raffles Dubai. TOMO goes by the same standards as the hotel, but are a self-run business. Here's are review after a full set menu dinner with drinks.
VIEW AND VIBE
There are many great things about TOMO, but one of the best and also our favorite thing must be the fantastic view. Sweeping skyline views of the Downtown Dubai skyline with Burj Khalifa is a mighty back drop. If you come here during sunset, you'll be in for a treat. The sun sets right behind the skyscrapers which creates a magnificent spectacle for your eyes.
For being a fine dining and upscale restaurant, the vibe on the terrace is very relaxed and lounge. The chilled-out DJ tunes from the speakers creates a nice lounge vibe. And so, does the comfy sofas on the left side of the terrace. On the right side of the terrace you'll find bar stoles and tables in a more bar like environment. A nice thing that helps creating the lounge feeling even more.
FOOD AND DRINKS
OK, the view is something extra up here. But if there's something else that stands out about TOMO, it's the delicious Japanese cuisine. You must try the sushi and sashimi! We ordered their famous "Sushi boat" which basically is a big ship loaded with different sushi, rolls, nigiri and sashimi. The finest cuts of different fish and seafood makes this plate a heaven for any food lover. We also tried some deep fried seafood and vegetables, Wagyu skewers, along with a mix of Japanese desserts. Extra plus for the homemade ice cream.
Drinks are great as well. One of our favorites was the passion fruit cocktail with sake. Refreshing and with a great taste. For the sushi we hade some beers which was very fitting. Great food, lovely view and good drinks – what more can you ask for? Oh yes, the service is very good up here as well. Always attentive, polite and with a smile.
CONCLUSION
We can recommend everyone in Dubai to come to TOMO if you like an extraordinary rooftop dinner. Book your table in advance on the terrace and make sure to try the sushi/sashimi for the ultimate experience.
Address: Exit 56 - Raffles Dubai
• Skyline view
• Fantastic japanese food
• Greatservice
• Lounge vibe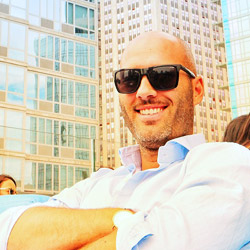 Written by:
Hans Ebenman
- Co-founder, CEO & rooftop expert at The Rooftop Guide