Infinity pool and rooftop bar at LookUp Rooftop Bar at La Ville Hotel & Suites CITY WALK
Review
LookUp Rooftop Bar at La Ville Hotel & Suites CITY WALK
Sweeping skyline views over downtown Dubai in a lounge environment
Published: December 3, 2019
This rooftop offers sweeping skyline views over downtown Dubai in a lounge environment.
La Ville Hotel & Suites CITY WALK have one of the best rooftop infinity pools in Dubai. In addition to the pool you'll also find a nice rooftop bar with both good drinks and food.
INFINITY POOL
The rooftop infinity pool here is one of the best in Dubai. As a hotel guest, you can use the pool all day long. And if you're not staying at the hotel, you can still buy an access to use the pool and cabanas. There are 6 nice cabanas surrounding the edges of the terrace. Perfect if you like to chill out in the sun during the day.
FOOD AND DRINKS
We tried some classics like Gin & Tonic, Old Fashioned, Pina Colada, Aperol Spritz and Mojito. All of them tasted nice and refreshing. Because it's a pool area, all drinks are served in plastic glasses. Apart from that, there were nothing to complain about regarding the drinks.
Food was great as well. Specially the pizzas and chicken wings. You must try the peperoni pizza! The menu is a classic bar bite menu with lot of sharing plates. Perfect to your evening cocktails.
CONCLUSION
LookUp Rooftop is a great rooftop for some late evening cocktails, or a day spent at the luxurious infinity pool. For best experience, book your stay at the hotel.
Address: Al Multaqa Street, La Ville Hotel & Suites CITY WALK - Dubai
• Beautiful skyline view
• Loungy vibe
• Delicious pizzas
• Luxurious rooftop infintiy pool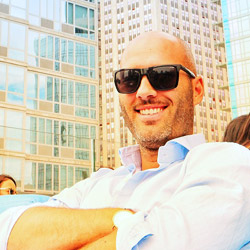 Written by:
Hans Ebenman
- Co-founder, CEO & rooftop expert at The Rooftop Guide