Friday night and party at CÉ LA VI Hong Kong
Published: December 1, 2017
One of the best rooftop bars in Hong Kong if you like a great party vibe with sweeping city views:
Our first night in Hong Kong, we decided to celebrate at CÈ LA VI rooftop bar. CÈ LA VI is a superb rooftop bar located in the Central area of HK.
We arrived here just before sunset, and took the elevator to the top floor to be meet by the stunning city views among the mighty skyscrapers of Central Hong Kong.
The terrace and atmosphere:
We had reserved the "Chairman's table" which meant we got the best seats available on the terrace. A big and nice lounge area in the corner of the terrace overlooking the whole rooftop venue and with the city as a mighty backdrop.
Firstly, we ordered a round of signature cocktails. They where all made to perfection. Actually, they were so tasty that we ordered 5 more.
Food and drinks:
At this time the roof terrace was packed with party people and the darkness had fallen over the city creating a magnificent and spectacular city view with all the lights and neon lights that sparks up the skyline. If the drinks were superb here, so was the food.
We tried some different bar bites like sushi, spring rolls, chicken skewers, pork skewers and cheese. To this a round of Chinese beers.
Conclusion:
The atmosphere at CÈ LA VI is superb if you like a vibrant and party friendly environment. The live DJ plays nice tunes and the attentive staff makes sure that you always have something in your glass.
This is the perfect rooftop bar in Hong Kong, if you like to party with an amazing city view.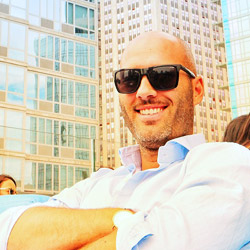 Written by:
Hans Ebenman
- Co-founder, CEO & rooftop expert at The Rooftop Guide