Friday night at Cerise rooftop in Chicago
Review
Friday night at Cerise rooftop in Chicago
Great service by the woman in red
Published: July 25, 2017
The atmosphere was on top when The Rooftop Guide joined the after work crowd for some drinks and food at the great Cerise rooftop in Chicago.
Cerise is located up on the 26th floor at Virgin Hotels Chicago. We had a reservation at 7PM and when we went out through the elevator doors the atmosphere was already buzzing.
We got greeted by Nichole Villerot, aka the bar manager, aka the woman in red. This is a concept for Virgin Hotels, the hostess wearing red, making her easy to spot if you need help with anything. Anyhow, Nichole took really great care of us throughout the night, so our big thanks for that!
Nichole Villerot aka Woman in red
We started off with a quick stop at the inside bar to order some drinks. The drink menu is quite basic with some beer/wine/sparkling and five crafted cocktails with good variation. We ordered one more mild and classic London Lady (gin) and one spicy Devil In The Hot Seat (bourbon & cayenne).
Then Nichole took us on the grand tour around the terrace, which goes around three sides of the square building. Quite narrow and long middle stretch and then opening up a bit more on both sides. This means that you get great views in all directions over the Chicago skyline.
There are quite alot of sofas to sit down in or higher tables with bar chairs.
We got a table at the far end of the terrace, and the first thing we noticed was that finally, after two days in Chicago, we spotted Willis Tower. About time...
Our table. And Willis Tower in the background :)
Yes, there was wifi...
The chef came over to our table and told us we were gonna get to try out their newly updated menu. Great news for us! And given that Cerise is mostly a bar and nightclub, the food really impressed.
There was some really nice asia-inspired sandwiches with a great dip, almost addictive olives and nuts, the classic chips with some hummus and dates in bacon. As said, not 5-star restaurant food, but as far as bar snacks go, really tasty and nicely presented.
You can find the best Chicago rooftop restaurants here.
After the meal we continued hanging at our table and enjoyed some more cocktails. Margarita with spice, The Good Ox (Green tea infused vodka, passion fruit, grapefruit) and the special Cerise Sangria. And we did so without having to leave the table, had a very friendly waitress giving us great service all night long.
The Good Ox
Margarita with spice
As time went by the place (both terrace and inside) really started to fill up with more and more people, could sense that there would probably be a good party mood later at night. Unfortunately for us the jet lag was still very much a factor so we could not stay to enjoy it. But before we left Nichole wanted to show us something.
She took us one floor down, where they have a "secret" speakeasy bar. The entrance looked like the entrance to the showers in a locker room, but behind was actually a big room with a cool bar, a fire place and even a stage where they sometimes have different shows and so on.
And there was even a terrace to step out to. Not the same great view as one floor up, but still a really cool place.
All in all we loved hanging out on Cerise rooftop, we would say it fits perfect for just a drink and enjoying the views earlier in the evening, and later on at night for a good party.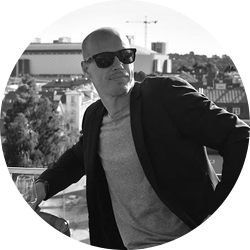 Written by:
Rikard Fredricson
- Co-founder, Creative & rooftop expert at The Rooftop Guide