FLIGHT at Sky on 57 and the meeting with Michael O'Shea!
Published: January 21, 2016
On our third day in Singapore we where invited to Marina Bay Sands rooftop bar FLIGHT at Sky on 57. We got a personal invitation from the manager Michael O'Shea, so we decided to meet him up at the terrace.
FLIGHT at Sky on 57 is a pretty new rooftop bar at Marina Bay Sands. The location is probably one of the best for a rooftop bar in whole Singapore. Amazing views in all directions.
The terrace is decored with confy lounge furnitures, green trees, a DJ booth and a really cool bar. If you are lucky to time a sunset you will for sure have a some of the most beautiful views there is to see in Singapore. In other words, this is one of the best Singapore rooftop bars.
Sky on 57
At 6 PM we met Michael in the bar and we felt really welcomed right from the beginning. We sat down and talked about rooftop bars, cocktails and the work he have done for FLIGHT at Sky on 57.
We also got the chance to try some of their special cocktails. The French 57, a classic Singapore Sling and their own Singapore Sling. We loved them all, but if I have to choose one it will be the French 57 wich contains G'Vine gin, Yuzu Umeshu, acacia honey, lemon and Champagne. Yummie!
Impressive view from Sky on 57.
Sky on 57 special cocktail, French "57".
Classic Singapore Sling.
Singapore Sling with Sky on 57s unique touch.
After the drinks we had an awesome dinner in the restaurant Sky on 57 around 8 PM. And right after the dinner we met Michael at the rooftop bar again. Here we ordered more cocktails to the amazing skyline views and the tones of the DJ.
Michael stopped by our table several times and he told us a lot about Singapore, it's history, nightlife, restaurants and much more. We also talked about how the rooftop guide started and stuff like that.
Michael was a super nice and funny guy and we couldn't be more happy about the treatment we got. Service and hospitality at it's best! And we will for sure be back in a near future.
With the manager of Sky on 57, Michael O'Shea.
Ida, Michael and me.
Drinks with a view!
To find out more about FLIGHT at Sky on 57, check out their website here. A must to visit when in Singapore!

Next blogpost will be about 8 other rooftop bars in Singapore.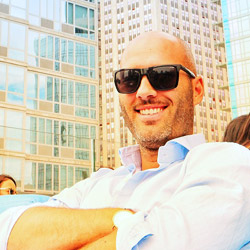 Written by:
Hans Ebenman
- Co-founder, CEO & rooftop expert at The Rooftop Guide