First day at roof terraces in Nice
Visit
First day at roof terraces in Nice
Radisson Blu
Published: July 7, 2016
By the rooftop pool at Radisson Blu in Nice
After some thorough research before our journey for hotels with cool roof terrace in Nice, our choice fell on Radisson Blu Nice. A magical rooftop bar with 360-degree views over the Promenade de Anglais, the sea and the mountains behind.
View towards Promenad de Anglais, the sea and the mountains
The alarm rang unearthly early at 7:00 AM. Up, munching brekky, a jog along the beach and then head up to the rooftop and put out the towel to get a good lounger. In true tourist spirit, haha. Here we just chilled and sunbathed, read books, listened to audio books (The Attractor Factor by Joe Vitale, very good stuff) and just had a generally good time.
Out early to get the best loungers
Important to stay close to the water :)
Awesome pool on the roof terrace!
Around lunch at 1:00 PM we went over to the rooftop restaurant to get us some food. Ida took the fish of the day, some sort of salmon and I ordered an Italian tile. We got food for a whole company. The meals were OK, but not more.
Much better was the view and the atmosphere. And always nice to sit down in the shade after a few hours in the sun. When we had eaten most of the food we went back to the loungers for some more relaxing.
Some sort of salmon...
The afternoon continued in the same style as the morning. Around 6:00 PM our stomachs started to scream for more food, so we decided to head down to the room to take a shower and then make our way into the old town for some tasty local food.
The concierge told us about a really good restaurant with a fantastic steak tartare and entrecote. Comptoir du Marche. If you're in Nice, you should go there if you like fine French cuisine at incredibly good price. A total of 81 EURO for two 3 courses with 4 glasses of wine. Super price and super food!
Tomorrow we'll visit two more rooftops in Nice. Le Meredien and B4 Plaza. Keep an eye on the blog for more info.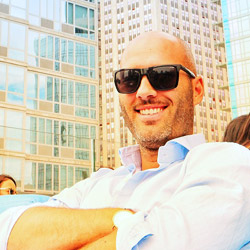 Written by:
Hans Ebenman
- Co-founder, CEO & rooftop expert at The Rooftop Guide