The Swedish football team FC Samp recruits Kurt Hamrin on a rooftop in Florence
Review
The Swedish football team FC Samp recruits Kurt Hamrin on a rooftop in Florence
One of Series A's best footballer of all time
Published: September 28, 2016
With Florence coolest views the Swedish football team FC Samp welcomed one of Series As best footballer of all time - in cooperation with The Rooftop Guide.
The alarm rang 8:00 on Saturday morning in the hotel room in Florence. Outside the window the sun was shining and it was set for a magical day with the long lunch, rooftop hang out where Kurre Hamrin with wife would meet up and then finish the evening with Fiorentina - Milan at Artemio Franchi.
The Rooftop Guide in cooperation with the Swedish football team FC Sampierdarenese, where I play, had booked the roof terrace at Antica Torre Via Tornabuoni. Between 16:00 to 19:00 we were treated to various Italian delicacies, wine, beer, prosecco, Aperol Spritz, juice and water on the roof, with the views of Florence's open landscape, rooftops and historical buildings.
The table were set for party when 28 thirsty and excited people arrived at the roof terrace. At 16:00 we welcomed the Swedish football legend Kurt Hamrin with the wife. Here they received respective team shirt, and also answer some questions from the football commentator Jesper Hussfelt - who are also old friends with both Kurt and his wife, Marianne.
Kurre told anecdotes from his career in Italy and also how it is to live here. Very interesting and fun listening.
Up on the terrace all enjoyed the refreshing drinks and tasty delicacies. The staff had put up one table for the drink buffet and one for the food. The weather was brilliant and we all enjoyed in the comfortable lounge sofas with beautiful views of Florence and it's surroundings. Around 18:50 the sun started to set, which resulted in magical images for many.
Three hours of free bar and the sun on our faces resulted in a hyped and happy group of people that just after 19:00 headed for the soccer game at Artemio Franchi to see Fiorentina - Milan. Unfortunately, the game was not as good as the rooftop bar. 0-0 after a rather sleepy affair.
The Rooftop Guide and FC Samps event at Antica Torre Via Tornabuoni was one of the highlights of the whole trip and day, for sure. And we thank the staff at the hotel for good service and a nice arrangements.
The rooftop terrace is available for private events for those who want. Contact the hotel in advance if you like to book the venue.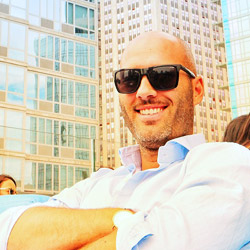 Written by:
Hans Ebenman
- Co-founder, CEO & rooftop expert at The Rooftop Guide