Food, drinks, views and service of the highest quality at Silk Club in Lisbon
Review
Food, drinks, views and service of the highest quality at Silk Club in Lisbon
"Fantastic Asian cuisine in a lux environment"
Published: August 11, 2017
Fantastic Asian cuisine in a luxurious environment. Add premium views and top-notch service to this and you know you're in for a treat:
We had our eyes on Silk Club for a long time and we were super excited to visit this Lisbon roof bar, after some recommendations and by the looks of all pictures. Like always, we try to get both daylight, sunset and darkness when we visit rooftops. And this was no exception.
Our table was set at 8:00 PM but we came for some drinks half an hour before, just to enjoy every bit of the terrace.
We started with two glasses of cold white wine, while gasping out over the Atlantic Ocean and the rooftops of Lisbon. The terrace is quite small and with a lovely and relaxing atmosphere. This is a trendy place and people are well dressed and aware.
The restaurant opens at 8:00 PM and we were ready right away. All dinner seats are inside with a roof over your head. But the area is open and it feels like your sitting outside because of the big opening to the terrace.
The restaurant here is Asian fine dining with super high quality of every raw material. You can order sushi, sashimi, dumplings, Kobe beef, salads, nigiri and much more. The hardest thing was to decide what to eat, so we agreed to try many different things from the menu.
Drinks to that, Japanese beer and warm Sake. Here it goes:
Pressed cucumber
Beef tataki
Kushi Gyoza with foai grass
Salmon sashimi
Cod fish sashimi (catch of the day)
Kehin tempura
Ojime - vegetarian sushi
Scallops
Lemon tart
I'm a very big fan of the Asian cuisine and I must say that the food here was superb. Everything tasted great and was served in nice and sophisticated way. The freshness and taste was something extra ordinary. I loved it!
If you like the Japanese kitchen with a twist from other Asian countries, this is heaven for you! The price is quite high, but it's worth every penny and you will have a dinner to remember for the rest of your life.
When the restaurant closes for the night, Silk Club turns into a night club where you can party with trendy people until 04:00 AM. So, if you like, you can have three different settings here. 1. Afternoon drinks to the sunset. 2. Fancy dinner in the evening. 3. A night out until the late hours.
We settled with 1 and 2. We really recommend Silk Club to everyone that are going to Lisbon in the near future. This rooftop bar has it all!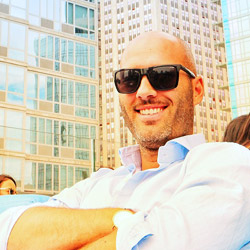 Written by:
Hans Ebenman
- Co-founder, CEO & rooftop expert at The Rooftop Guide