Fancy dinner with a view at Above & Beyond at Hotel Icon in Hong Kong
Published: December 3, 2017
To dine with a view in a luxurious environment is something many people loves to do. At Above & Beyond you can do this to the mighty skyline view of Hong Kong Island.
Our table was set at 8:00 PM and when we arrived at the 28th floor, we were met by stunning skyline views of the neon lit Hong Kong Island. The Hong Kong Island is probably the coolest and most impressive skyline in the whole world. A real pleasure to dine with this in front of our eyes.
Food and service:
The team at Above & Beyond had prepared a special set menu for "The Rooftop Guide" were we where about to try some of the signature dishes the kitchen has to offer. In total 6 dishes, 3 glasses of wine and some English tea. To begin with we were treated with a glass Champagne to the first to meals, after that a red wine from Italy for dish number 3 and 4, and to the dessert a sweet and tasty white wine.
The service food and wine were very good, but we must admit that the best thing about Above & Beyond was the spectacular view. You can never get tired of a view like this. We sat here for hours staring out over Hong Kong, while eating and laughing. A very nice dinner in a super cool and luxurious setting.
Rooftop pool at Hotel Icon:
Above & Beyond is located at the 28th floor of Hotel Icon. Hotel Icon is also equipped with a large and fancy rooftop swimming pool, only available for the hotel guests. Unfortunately, we didn't manage to try it out this time. But here's some pictures and info about it.
The rooftop pool is located at the 9th floor overlooking The Harbour and Hong Kong Island. A heated pool that are open all days between 6:00 AM – 9:30 PM for the inhouse guests.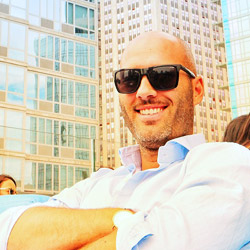 Written by:
Hans Ebenman
- Co-founder, CEO & rooftop expert at The Rooftop Guide