Drinks and snacks at Hotel Raphael
Review
Drinks and snacks at Hotel Raphael
"One of the best views in Rome"
Published: June 9, 2017
Champagne from 1988, tasty snacks and Aperol Spritz at the classic Hotel Raphael in central Rome
After the lunch at Grand Hotel Minerve, we headed to another of Rome's most famous rooftop bars at Hotel Raphael. This rooftop is located in the middle of Rome, just right next to Piazza Navona. The time was around 18:00, which made it a perfect time for some drinks in the evening sun.
We had reserved a table in the corner of the terrace. The same table as we always get here. This was actually the third time I visited Hotel Raphael in 4 years.
Upon arrival, we received a bottle of Champagne from 1988, that tasted fantastic. A perfect way to start our visit at this rooftop. We also got a platter of Italian snacks to enjoy to the beautiful view and bubbles.
There was a lovely breeze on the terrace while the sun was shining on us the whole time. Perfect conditions for an evening at a rooftop bar in Rome.
After the Champagne and snacks, we had to try one Aperol Sprits as well. It tasted as good as always up here. One of my favorite things to do when visiting a rooftop.
Rome have an abundance of historical and beautiful buildings and monuments, and you can almost see all of them from Hotel Raphael. A perfect way to start of your evening – with drinks with a view.
As always, I love to visit Hotel Raphael. This rooftop works for every moment. A romantic dinner, afternoon drinks, lunch, evening cocktails or just some after work hangout.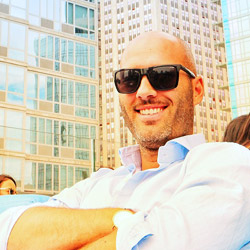 Written by:
Hans Ebenman
- Co-founder, CEO & rooftop expert at The Rooftop Guide