Evening cocktails at one of Cannes's coolest rooftop bars
Review
Evening cocktails at one of Cannes's coolest rooftop bars
Le 360 at ​​Radisson Blu
Published: July 16, 2016
The cool rooftop bar Le 360 in Cannes
Here we had a good contact with Guillaume at the Radisson before our arrival. He made sure we were well received on the terrace and we got a really good table furthest out on the rooftop with views of the harbor and the beach.
We sat down in the sofa and took a look on the drink list. They had many different specialties regarding cocktails so we decided to test a few different.
Ready to try some drinks
Ida took a Red Ginger Fizz and I took a Le 360 ​​- which is their own special cocktail. Both drinks were really amazing and they poured down fast in our thirsty throats. Time for round two.
It ended up with two coffee drinks. A classic Espresso Martini and the rooftop bar's own special coffee drink. To all drinks we were served a lot of snacks in form of tiny canapés, olives, chips and nuts.
Awesome drinks and snacks
Ida with coffee drink
To get as good feel of the terrace as possible we tried a total of 3 different seatings. Our sofa in the end of the terrace, big wicker furniture in the corner of the terrace and a plain table near the swimming pool with city views.
All locations had its charm and the conclusion we could draw was that virtually all places on the rooftop was very good.
Trying out the wicker furniture
Plain tables with city views
In the couch with awesome view.
The atmosphere up here was also very nice. To the tunes of lounge music and the city buzz, it created a pleasant and harmonious feeling. Many people come here for a drink before their evening dinner.
Some night's smaller events are also being held up here. We were invited to their jazz/pop evening, but sadly had to decline because we had planned to travel towards Saint Raphael the same day.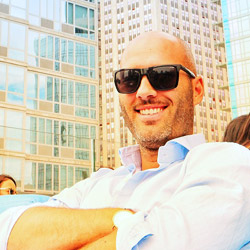 Written by:
Hans Ebenman
- Co-founder, CEO & rooftop expert at The Rooftop Guide