Evening cocktails and pizza at the highest rooftop bar in Kuala Lumpur – Marini's on 57!
Published: December 27, 2016
Dinner with a view on a rainy evening:
Not many places in Kuala Lumpur can boost with such amazing view and proximity to the Petronas Twin Towers as Marini's on 57. Marini's on 57 is a luxurious rooftop bar in Kuala Lumpur, with a fantastic party atmosphere.
You'll also find a superb Italian restaurant up here, where they serve fantastic Italian food. We choose to stick with the bar and cocktail menu this time.
The Petronas Twin Towers close to the roof terrace.
First of all, you need to dress to impress to feel at home here. Well up on the terrace you'll be stunned by the amazing skyline views and the high altitude.
The most impressive thing here, is the proximity to the Twin Towers. From the corners of the terrace (which are the only ones that are open aired) you get a mighty view right next to the towers. Lots of people take cool pictures here, and so did we :).
After we had checked out every part of the terrace we sat down and ordered some cocktails and pizza. The service was fast and attentive. We got our drinks right away and the pizzas came shortly after.
We liked both the cocktails and the food. Just what we needed after a long day in the city.
The weather was unfortunately quite cloudy and it rained most of the time when we were here. Lucky us that most of this rooftop bar is under a ceiling. Marini's on 57 was a really nice experience among rooftop bars in Kuala Lumpur.
If you like luxury, tasty food, fast service and to party with a view – this is a perfect rooftop. We heard from some friends that the New Year's party here was something extra, with premium view over all the fireworks and a fantastic party atmosphere.
We like to thank all the staff at Marini's on 57 for a nice couple of hours at their rooftop bar, and we'll for sure be back here next time we visit KL. Here you'll find some more info about Marini's on 57 rooftop bar, and how to book a table, opening hours, pictures and much more.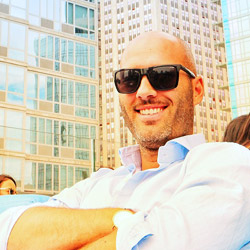 Written by:
Hans Ebenman
- Co-founder, CEO & rooftop expert at The Rooftop Guide