The first pit stop among rooftops in Madrid - Gymage Rooftop Bar
Review
The first pit stop among rooftops in Madrid - Gymage Rooftop Bar
Sunny city views and Aperol Spritz
Published: May 5, 2017
Gymage Lounge & Resort is a rooftop bar in Madrid located right in the city center next to Gran Via. We arrived here in the afternoon to get some Aperol Spritz before the soccer game, Real Madrid – Atletico Madrid on a Tuesday evening.
The terrace was almost packed when we entered. But we got hold of a nice lounge seat with two sofas and a table. Coming from cold Sweden made us want to sit in the sun, to the surprised local people that all sat in the shadow.
One hour and four Aperol Spritz later, we were heading off to the next place. Gymage was a pretty nice rooftop bar in Madrid. The best thing about this place is the atmosphere and refreshing cocktails.
The view is OK among the central located rooftops, but nothing more than that. This rooftop attracts a little younger crowd that likes a more lively feeling.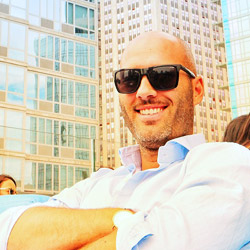 Written by:
Hans Ebenman
- Co-founder, CEO & rooftop expert at The Rooftop Guide