Drinks and snacks at the rooftop bar La Terraza de Oscar in Madrid
Review
Drinks and snacks at the rooftop bar La Terraza de Oscar in Madrid
Almost 360-degree view, pre-party feeling and a modern design
Published: May 3, 2017
La Terraza del Oscar is located in the city center of Madrid at the hotel, Rome Mate Oscar. This rooftop bar has a luxurious feeling with a clean and modern design. White sofas, chairs and tables.
The music played is a mix between lounge and party music depending on what time during the evening you visit the terrace. According to many, this is one of the best rooftop bars Madrid has to offer on this page.
We arrived here at 6:00 PM and got hold of a nice table in the corner of the terrace. Unfortunately, the rooftop pool hadn't open yet (opens later in May), so we didn´t have a chance to try it out. More focus on drinks and some food.
We ordered three different drinks and some pizza slices. The drinks were quite sweet and served in a nice way.
After a little while the tasty pizza slices arrived. Super good and worked perfect to the next round of drinks, which was 3 classic Spanish beers. Pizza and beer can never go wrong.
The luxury of eating and drinking with a 360-degree skyline view over Madrid didn't make it worse. The terrace was half packed with people and the atmosphere very "loungy". For being an early evening on a Wednesday it was very good and we can only imagen the party feeling up here during the weekends.
In total, we stayed here for two hours enjoying the drinks, food and superb views. If you like nice views, party friendly atmosphere and tasty drinks – La Terraza del Oscar Madrid is a good rooftop bar in Madrid to visit.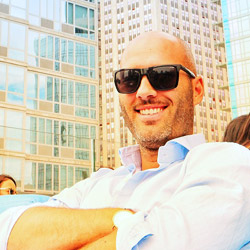 Written by:
Hans Ebenman
- Co-founder, CEO & rooftop expert at The Rooftop Guide