Snacks and Prosecco at 52EIGHTY rooftop lounge in Chicago
Published: July 13, 2017
Our first night in Chicago ended up with food and drinks to downtown city views:
Our flight landed at 6:00 PM and we had a table at 52EIGHTY at 9:00 PM. In other words – no time for relaxation, just leave the bags at the hotel and head up to the rooftop bar.
Well there we were shown to a nice table overlooking the city. Unfortunately, the walls surrounding the terrace where quite high, but you could see through the windows. The whole terrace is still open air, which gives it a free and nice feeling.
We decided to have some different appetizers with some beers and Rosé Prosecco. Mini sliders, burrata, truffle fries and a plate of cheese and different charcuterie. Perfect order fore some late snacks and drinks.
Everything tasted good and we really enjoyed the fast service and different food. A nice rooftop restaurant in Chicago.
The terrace is quite small and very cozy and party friendly at the same time. There are both bigger sofas to hang out in, but also dinner seats with tables and chairs. We were here between 9:00 PM to 11:30 PM and the terrace was full of people the whole time.
The atmosphere was very nice and it felt like lots of people visit 52EIGHTY for some evening cocktails before heading out to nightclubs later on.
All in all, we really liked 52EIGHTY. This rooftop bar has both stellar downtown views, nice atmosphere and some tasty drinks and food. You can't ask for much more of a centrally located rooftop bar in Chicago.
If you want to make sure to get a table for dinner, it's recommended to book your table in advance as the terrace is very popular.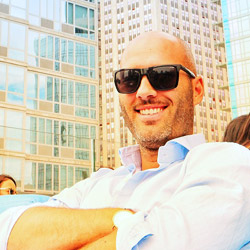 Written by:
Hans Ebenman
- Co-founder, CEO & rooftop expert at The Rooftop Guide