Altitude Sky Lounge in San Diego
Review
Altitude Sky Lounge in San Diego
Lots of food and drinks with a sunset view to die for
Published: July 27, 2017
An evening with lots of American food to the downtown views of San Diego and the baseball stadium
Altitude Sky Lounge is a centrally located place among the many rooftop bars in San Diego, with views over the baseball stadium, where San Diego Padres plays their home games. This may be the best seat in the city to see a baseball game. You can see the whole field and stadium.
At game days, the terrace is packed with baseball fans cheering for the home team. If you like an extra ordinary rooftop experience, make sure to come here during a home game and be on time to get a good seat.
Unfortunately, the Padres played away in Philly the evening we came here. Our table was set at 7:00 PM, in perfect time for the sunset. The bar manager Colin McCann welcomed us in a great way and showed us around the terrace before we sat down and ordered our first cocktails.
The roof is divided in two terraces. One smaller with some standing seats and panoramic skyline views of downtown San Diego and one bigger with lots of seats and views over the Pacific Ocean, stadium and Coronado Island.
We decided to share some signature appetizers along with some different cocktails. American appetizers are bigger than the normal portion, so there was a lot of food for us. Pretzels with Jack Daniels mustard, guacamole, mini pizzas and spicy buffalo wings.
Colin McCann also had a small surprise for us up his sleeve. Colin was a great guy with a super service minded approach.
Just after dinner he showed us the private helipad located behind the bar. Guests are unfortunately not allowed to come here if not specially invited. This area was super cool with an absolutely lovely sunset view over the city skyline and Pacific Ocean.
We finished our drinks up here while gasping out over the surroundings and listened to Colin while he told us more about Altitude Sky Lounge and San Diego. A perfect ending to a perfect evening.
We really liked this place. Nice atmosphere, good food, cool views and a little older clientele. From around 30-50 in age which created a calmer and more harmonius feeling.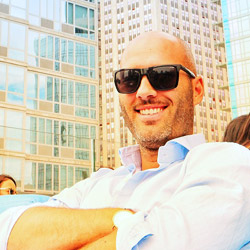 Written by:
Hans Ebenman
- Co-founder, CEO & rooftop expert at The Rooftop Guide