Dom Perignon Sunday Brunch at Ozone, Ritz Carlton Hong Kong
Review
Dom Perignon Sunday Brunch at Ozone, Ritz Carlton Hong Kong
Free flow Dom Perignon, 480 meters up
Published: November 29, 2017
An afternoon filled with Champagne, sunshine, delicious food and a festive atmosphere!
As always when visiting Hong Kong, the Dom Perignon Sunday Brunch at Ozone Rooftop bar, is the first thing we book in our rooftop schedule.
For those who haven't tried this brunch, it's a must to do next time in HK. You will have a memory for life and one of your best and funniest days ever.
3-4 hours of free flow of Dom Perignon, delicious food in all varieties, sweeping views of Hong Kong from 480 meters altitude and fantastic service. Justin was the guy looking after us. And he did it in the best way a waiter can do. Fast, attentive and funny at the same time. A lot of cred to Justin for making our day superb.
Ozone at the Ritz Carlton is the worlds highest bar and rooftop bar. We where lucky to time in a sunny day, which gave us some fantastic photo opportunities and grand views. We arrived at noon and left just after 4:00 PM. Four hours of pure pleasure.
Food and drinks:
The food here is amazing and there's something for everyone. Or how about sushi, sashimi, fresh seafood, Iberico ham, cheese in all it's forms, burgers, BBQ, ribs, lobster, sauces, salmon, sausages, eggs benedict, a dessert table to die for and much more.
We let the pictures speak for them self's.
Conclusion:
If you like Champagne, this brunch is heaven! Free flow of ice cold Dom Perignon is amazing. We were also lucky to get the best table available at the terrace. In the left corner of the terrace overlooking the mighty skyline of Hong Kong Island and the skyscrapers of the Kowloon side. At an altitude of 480 meters, everything below feels small.
We can recommend the Dom Perignon Sunday Brunch to everyone that will visit or live in Hong Kong. Book your table in advance and you will be in for a real treat.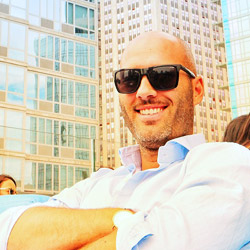 Written by:
Hans Ebenman
- Co-founder, CEO & rooftop expert at The Rooftop Guide