Dinner in the sky at the fantastic rooftop restaurant Red Sky
Review
Dinner in the sky at the fantastic rooftop restaurant Red Sky
Surf & Turf, superb service, luxurious feeling and views to die for
Published: April 19, 2017
After our pre-dinner cocktails and snacks at CRU Champagne Bar, the crew had prepared a table at the rooftop restaurant, Red Sky, for us. The table was set at 20:00 as we walked down the stairs from one floor up.
We got a table at the edge of the terrace overlooking the mighty skyline of Bangkok. We couldn't ask for a better table. Probably the best Bangkok rooftop restaurants you can find.
Jemjira had told us that the Red Sky Surf & Turf Tower was supposed to be something extra here. So, we decided to try it out. And it turned out to be a great choice.
We actually knew that we were in for a treat just tasting the bread on the table. It was super yummy and freshly baked. Always a good sign when the bread is superb. For drinks, we shared o bottle of Cava and some sparkling water.
After a little while the crew came out with the Surf & Turf Tower. And WOW! It looked and tasted delicious. It contained an assortment of the freshest seafood and prime quality meat. Wagyu rib eye, lamb rack, grilled Maine lobster, giant Andaman prawns, Alaskan king crab and U.S. scallops, accompanied by seasonal vegetables, potatoes and delicious dips & sauces.
Probably one of the most delicious Surf & Turfs you can find in Bangkok.
Even though our stomachs where full and we had eaten food for a whole company, we decided to try some dessert. We shared a chocolate dessert with bananas. A perfect ending to a perfect night.
This fantastic dinner ended a fantastic night where we had the pleasure and honor to enjoy drinks and food of the very highest class – both at CRU Champagne Bar and Red Sky. If you're in Bangkok, this is a must visit. Be prepared to spend some money, but it's well worth it and you'll have a memory for life.
Red Sky – just like CRU Champagne Bar – is perfect for those who loves luxury, a nice atmosphere, superb service, tasty food, delicious drinks and one of the best views in Bangkok.
For more information check out Red Sky here.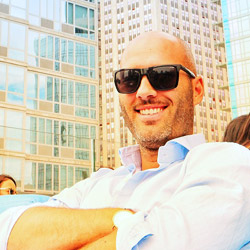 Written by:
Hans Ebenman
- Co-founder, CEO & rooftop expert at The Rooftop Guide