Day 1 and 2 among rooftop bars in New York!
Published: May 6, 2016
We arrived at the hotel late afternoon after a wild taxi ride where the driver was able to fall asleep behind the wheel, tell me that he was a cousin of Mohamed Kallon, a friend of the president of Sierra Leone and a former diamond dealer in the same country. After three near-death experiences, it was a relief to step out of the taxi and check in at the hotel.
Pod39 rooftop bar.
Classic routine when we checked in. We threw the bags in the room and went up to our rooftop bar directly. A very popular rooftop with lots of partygoers.
Here we took two glasses of Prosecco and a drink each before we went off to celebrate my birthday at the Italian Restaurant Del Posto in Meatpacking. Pod 39 was a pleasant experience with nice views among the skyscrapers and a lovely atmosphere.
We talked a lot with both bartenders and locals about The Rooftop Guide and everyone seemed very interested and fascinated by the whole thing.
First glas of Prosecco.
Me and Ida on the terrace.
Day 2 on the rooftop bars St. Cloud and the Gansevoort Park:
Classic jetlagged we woke up already at 5:00 AM. No idea to stay and relax in the hotel room, so we changed up and went up and did workout at the roof terrace followed by a run in Central Park. Due to the early awakening, we were all by ourselves on the terrace and the views were really nice just at sunrise. Damn hard to beat that start of the day.
Morning training on the roof.
After a better burger lunch at Island Burgers & Shakes we were ready for the day's first rooftop bar. I tested their Napalm Burger, which is said to be one of the hottest in the entire NYC, so it was with a thirsty throat we headed to the Gansevoort Park's rooftop bar which was the first one on our schedule. Since I have already written about this visit, we jump directly to the next rooftop.
Yummie burger at Island Burgers & Shakes.
I had emailed a lot with Hande Bayar at St Cloud and he made sure to reserve a really nice corner table with leather sofas and views of Times Square for us. The time was just after 5 PM in the afternoon and after a long walk our mouths were screaming for some food and drinks.
Ida ordered in some Asian bar bites, bubbles and water before I barely had time to sit down. The food was OK and beverage magnificent.
St. Cloud rooftop bar.
Times Square as a mighty background.
Ida was thirsty...
It was one of those lovely atmospheres on the terrace where you just sat quietly and looked out and enjoyed the views. Total harmony. Away from all the noise and stress down the streets to the wonderful murmur that can only be found at higher altitudes. A little sound of police sirens mixed with the tinkling of glass bowls – that's life!
Learn more about day 3 and two totally amazing rooftop experiences in the next blog post.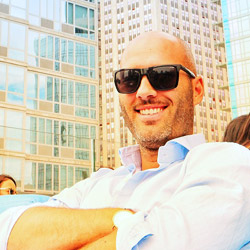 Written by:
Hans Ebenman
- Co-founder, CEO & rooftop expert at The Rooftop Guide