CRU Champagne Bar – a new edition to the fantastic rooftop scene in Bangkok
Review
CRU Champagne Bar – a new edition to the fantastic rooftop scene in Bangkok
Champagne, luxury, and the best view in Bangkok
Published: April 18, 2017
Champagne, luxury, fantastic food, the best view in Bangkok and a nice party atmosphere. All this at the new CRU Champagne Bar on top of Centara Grand at Central World.
We had been invited by the team behind CRU Champagne Bar to test the place out. We where very exited as the CRU Champagne Bar probably is the best Bangkok rooftop bar. You can find a complete guide here.
Jemjira from the marketing team welcomed us just as we stepped out of the elevator and showed us up to the terrace. We talked a lot about the new Champagne Bar and Jemjira showed as around and introduced us to the bar crew.
We had the luxury to come here 30 minutes before opening, which meant we had the whole terrace to ourselves in the beginning. Here we got the chance to try some fantastic signature cocktails and bar snacks. More about that later…
30 minutes before opening hour
Now to the most impressive thing about this rooftop – the view! WOW! The 360-degree view from here is something extra.
CRU Champagne Bar is located at one of the highest buildings in Bangkok which creates a stunning view all over the city. And when the sun sets, you're in for a real treat.
Get your cameras ready and you'll have some of the best photos you can imagen. There are both nice lounge seats and our favorite seats (the bar) available for the guests.
Champagne with a view
As I mentioned we love to sit in the bar. We found two great seats here and ordered some drinks and snacks/bar bites. The signature cocktails up here are superb and served in a stylish and cool way.
I took the "Bangkok Bellini" which contains Mandarin Absolut, mango pure, vanilla syrup, fresh ginger topped with Champagne and it was delicious. One of the best drinks I ever had. And Ida had the "Swallow's Nest" with ELYX vodka, Cointreau, beetroot juice, pomegranate juice, passion fruit juice, lime juice and rosemary syrup. The drink was served in a bird cage and tasted fantastic.
We also tried one glass of their own Champagne, "G.H. Mumm n.1 Pink Edition Extra Dry", that can only be bought here. Lovely taste!
Swallow's Nest
Bangkok Bellini
Drinks with a view
Their own Champagne, G.H. Mumm n.1 Pink Edition Extra Dry
If the cocktails and drinks were delicious, so were the bar bites. Or how about fried seafood, steamed pork belly buns and foie gras with chicken Yakitori skewers. The most delicious bar bites we ever tried. If it wasn't for the dinner we had planned the same evening, we would have ordered every snack on the menu.
We sat here and enjoyed the magical views while eating and drinking some of the best things we ever had. This was a 10/10 rooftop experience.
CRU Champagne bar has everything one can ask for from a perfect rooftop. 360 view, nice atmosphere, fast and attentive atmosphere, fantastic drinks and delicious bar bites. If you're in Bangkok, this is a must visit!
Snacks with a view
Steamed pork belly buns
Snacks
Foie gras and chicken Yakitori skewers
Next up, the dinner at Red Sky, one floor down from CRU Champagne Bar. Stay tuned! For more information check out CRU Champagne Bar here.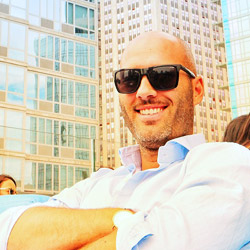 Written by:
Hans Ebenman
- Co-founder, CEO & rooftop expert at The Rooftop Guide