Crowne Plaza Causeway Bay in Hong Kong and their two lovely rooftops
Published: December 5, 2017
Two days filled with swimming in a rooftop pool, drinks with a view and superb breakfast:
The Crowne Plaza Causeway Bay Hotel is a 5-star hotel, located in the area Wan Chai in the central parts of Hong Kong Island. From outside, the hotel doesn't look much to the world. But well inside, you will be amazed how modern and fresh everything is.
A tip, is to ask for a room on a high floor with views over Happy Valley. That will give you a fantastic city view right among the skyscrapers and Happy Valley.
Rooftop pool and bar:
The first day here, we decided to try the rooftop pool located at the 28th floor. The water was quite cold, but the sweeping city views and luxurious terrace made you forget the cold water directly.
Right by the swimming pool, there's a rooftop bar serving snacks and drinks. We all had a round of Chinese beers and some snacks. It was super nice to just sit here drinking lunch beer while gasping out over the mighty skyscrapers. So nice that we ordered one more round of beers.
Pavilion roof terrace:
Day two we wanted to try the terrace on the 27th floor called Pavilion. This rooftop is only available for the hotels guests, and works like a small roof garden with a relaxed and harmonious atmosphere.
The views over Happy Valley, the skyscrapers and mountains are so beautiful from here. The opposite direction regarding the views, compared to the rooftop pool.
Up here we ordered a bottle of Prosecco and some smaller bar bites like, mini burgers, nachos and chicken skewers. Everything tasted good and the service was spot on.
Hotel, breakfast and gym:
The Crown Plaza Causeway Bay is a great hotel if you like to stay at a 5-star hotel without having to pay to much. The breakfast here is amazing. Fresh and with a good variety.
If you like to keep on the healthy track, there's a gym with breathtaking views, making forget that a workout can be hard. And if you place high value in a central location, you can't find a much better place.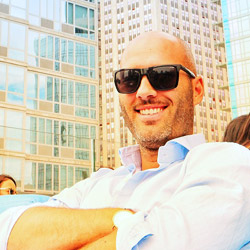 Written by:
Hans Ebenman
- Co-founder, CEO & rooftop expert at The Rooftop Guide