Cheese cake bonanza with a city view of San Francisco
Review
Cheese cake bonanza with a city view of San Francisco
A must visit for the cheese cake lover
Published: July 17, 2017
Delicious cheese cakes and downtown views over SF and Union Square
If you love cheese cakes, you must visit The Cheese Cake Factory in downtown San Francisco. This rooftop bar/restaurant is located on the 7th floor of the ware house Macy's at Union Square. The terrace is quite big and has city views of downtown SF.
This is a very popular place and we had to wait for 30-40 minutes to get a table for 4 persons. But it was worth the wait!
We got a table in the corner of the terrace. Unfortunately, half of the terrace was in the shade, but they had heaters to warm up during the colder hours in the evening. This place has everything you can ask for regarding cheese cakes.
We decided to try two different to share. One with peanut butter taste and the other one with chocolate mint. Both were delicious and so big that we couldn't finish them.
The service was good and we got everything we ordered fast. The popularity and large amount of people wanting a table made the service very fast and attentive. Which is a good thing.
If you'd like to eat regular food instead of cheese cakes, you can do that to. There's a dinner menu with some classic American dishes like burgers, salads, pastas and so forth.
The Cheese Cake Factory is one of few good rooftop bars in San Francisco. Very strange giving the fact that the city has a lot of tall buildings and nice view spots. The cold climate might be one of the reasons.
Check out the other rooftop bars in San Francisco, if you're looking to do some rooftopping in US this summer.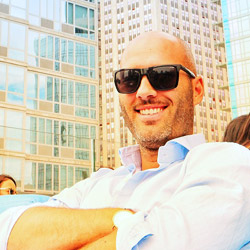 Written by:
Hans Ebenman
- Co-founder, CEO & rooftop expert at The Rooftop Guide