Champagne brunch at the world's highest rooftop bar
Review
Champagne brunch at the world's highest rooftop bar
Ozone at the Ritz Carlton in Hong Kong
Published: October 28, 2016
To drink cocktails with a great view is something most people love to do. Ozone Hong Kong takes it a step further by on Sundays offer a Dom Perignon Sunday Brunch with a variety of delicacies and free access to Dom Perignon at an altitude of 480 meters and overlooking the whole of Hong Kong and its surroundings.
The whole gang
Before our trip to Hong Kong we have had an eye on the Ozone rooftop brunch since a long time. After both tips from friends and track via our website the brunch was the first thing we booked after the flight ticket. We got a nice contact via email with Ada, Tequila and Cat that helped us to reserve the best table in the whole roof terrace.
Our experience at the world's highest rooftop bar - Ozone in Hong Kong:
Once we arrived - after an elevator tour the 118th floor - it turned out that we had both a private dining room and a lounge area on the terrace booked to us. Because the view was the primary thing for us, we choose to hang out in the lounge area throughout the brunch. And the view was as good as it can be.
Dizzying and magnificent views across Hong Kong with the sun lightning up the skyscrapers. Fantastic in every way.
1 down, 15 to go...
Our private dining room.
View from the rooftop bar
We began with a glass of Champagne before we headed out to the buffet tables containing lots of delicacies. One hardly knew where to begin. There was sushi, sashimi, fresh seafood, foie gras, Iberico ham, salads, mini-burgers, salmon, cold cuts, cheeses, meats, gratinated lobster, truffle aioli, ribs, fish and much more.
One almost wished that you could not feel saturation for having the opportunity to try everything.
Sushi to die for
Lobsters and other delicious seafood
Nice plate from the BBQ buffet
Burger with a view.
Here we sat and ate while we toasted in champagne and gazed out over Hong Kong's majestic views. An unbeatable combo! All of us drank Champagne throughout the whole brunch and some tasted the Bloody Mary that also was available on the buffet.
Having fought our way through so many different delicacies as possible, it was time to check out the dessert table. Some of us absolutely loves dessert and they were ecstatic when they saw the desserts that were lined up.
Cheers from the founders of The Rooftop Guide.
Nice view from the corner of the terrace.
Or how about chocolate cookies, tiramisu, macarons, golden chocolate fondant, apple cake, raspberry sorbet, chocolates, etc. Even though our stomachs were almost full, I think that we managed to taste a little bit of everything.
A part of the dessert table.
Tiramisu and choclate cake.
Rasberry sorbet, yummie.
If you like good food of the highest quality with infinite access to Champagne, it's a must to come here if you are in Hong Kong. For about 1280 HKD/person, you can take part of this amazing buffet, the magnificent views and the incredibly nice and fast service.
Here you can book a table for the Champagne brunch and here you can book hotell room at Ritz Carlton.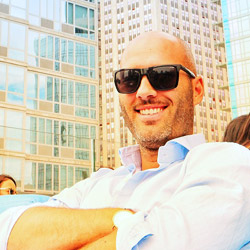 Written by:
Hans Ebenman
- Co-founder, CEO & rooftop expert at The Rooftop Guide