Best rooftop lunch in Stockholm at Pane Fresco!
Review
Best rooftop lunch in Stockholm at Pane Fresco
All the pics and info!
Published: April 30, 2018
Spring and sunshine in Stockholm means outdoor terraces mania. And there's no better place in Stockholm for a rooftop lunch than at Pane Fresco
Sunshine and 25 degrees means perfect conditions for a rooftop lunch. This was the first day you could sit outside and eat in Sweden in 2018. And what better place to visit than the lovely Pane Fresco located at the warehouse, Åhléns in the central area of Stockholm.
The rooftop restaurant:
Pane Fresco is an Italian restaurant with genuine Italian pasta, pizza and salads. The brothers Ian and Roberto from Naples runs this restaurant that's the only place in Stockholm awarded with the prestige filled pizza award "Vera Pizza" which is a recognition for a true Neapolitan pizza.
We had reserved a table for 5 persons at noon. As usual we asked for the table in the corner of the terrace. The view from here is super nice over the central parts of the city.
Always book your table in advance when visiting Pane Fresco. You can ask for a table on the terrace and you won't have to stand in line to get a table. During lunch this place is very busy.
Food and drinks:
We were treated with a three-course lunch with some fried mozzarella for starters, pasta as main and some pizza slices in between. The mozzarella was very nice. Perfect size and nice as a starter with a glass of prosecco. To the pizza slices we had some beers, which were perfect in the warm sun.
Pizza and pasta is the best things you can order here. Our pastas were superb. Ragu al Napoletano and Garganelli alla Aldo. Not much more to say about that. It tasted as it should do. Genuine Italian.
Conclusion:
Pane Fresco is probably the best rooftop in Stockholm for a nice lunch with a view. If you like Italian food and genuine pizzas from Naples, this is heaven.
The owners Paolo and Ian (both from Naples) are super nice and always funny to meet. They are often out in the restaurant talking to the guests which creates a lovely and funny atmosphere.
Me and Paolo
The Rooftop Crew!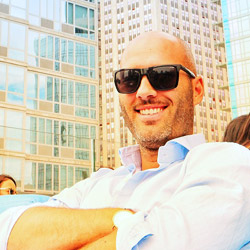 Written by:
Hans Ebenman
- Co-founder, CEO & rooftop expert at The Rooftop Guide