Best rooftop lunch in Madrid, at Azotea Del Circulo and their roof terrace Tartan Roof
Review
Best rooftop lunch in Madrid at Azotea Del Circulo
Tapas, cava, beers and one of the best views in the city
Published: May 14, 2018
Tartan Roof is always one of the first places on our must visit list, when arriving in Madrid. And this year was no exception. This is the perfect rooftop bar for a long lunch or some afternoon cocktails.
We decided to book a long lunch with tapas, cava and beers. And as usual, the weather was amazing. Sun as long as the eyes could see.
The terraces and view:
We arrived here at 2:00 PM and got our pre-booked table directly. It's always recommended to book your table in advance. Especially during weekends and public holidays.
The terrace called Azotea del Circulo consists in a large terrace where guest can drink, and a rooftop restaurant called Tartan Roof. The drink terrace has both bar stools, tables, day beds and standing seats, while the restaurant has classic table and chairs for dinner guests.
Up here, you'll get some of the best city views Madrid has to offer. Sweeping skyline views as far as the eyes can see. Especially during a sunny day. For example, you can see the Ritiro Park, Plaza de Cibeles and Gran Via from here.
Food and drinks:
Well made tapas and refreshing drinks. One sentence that summons the drinks and food at Tartan Roof. It's the second time we visit this place, and the food has been top notch both times.
You can choose from classic tapas like jamon, cheese etc. But they also have some more unusual things like a tasty burrata and tuna tartar. We ordered some different tapas along with some cava to start with. Swipe to see pictures of the food.
Swipe for more food pics
Conclusion:
We love Azotea del Circulo. Everything with this place is lovely. The view, food, service and atmosphere are all top notch. You always feel welcomed by the staff working here.
The atmosphere is very lively – even during daytime. We were here a public holiday and the terrace was filled with people already before lunch. We can't imagen a better place for a rooftop lunch in Madrid then at Tartan Roof.
Do not miss this if you're going to the Spanish capital.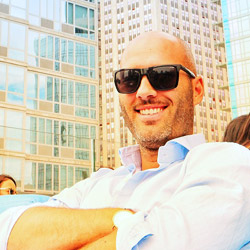 Written by:
Hans Ebenman
- Co-founder, CEO & rooftop expert at The Rooftop Guide