Bar SixtyFive the highest rooftop bar in NYC
Review
Bar SixtyFive, the highest rooftop bar in NYC
Found at the 65th floor of Rockefeller Center
Published: July 9, 2018
Review of the highest rooftop bar in New York
If you want a fancy rooftop dinner with view, there's no better place in NYC than at Bar SixtyFive. We decided to have an early dinner here at 5:00 PM. There's something special with watching the New York skyline from above during daytime.
Terrace and view:
When entering this rooftop bar, you must take the elevator from the Rockefeller Center all the way to the 65th floor. You're immediately structed by the fancy décor and luxurious feeling when stepping out of the elevator.
Firstly, you'll walk by the famous and super luxurious sky restaurant called The Rainbow Room. This restaurant is completely inside, but with windows and breathtaking panoramic views over Manhattan. But we were out after the outdoor terrace and rooftop bar Bar SixtyFive.
The sky was partly cloudy and partly sunny when we arrived. Pretty ok conditions for a nice rooftop dinner. We got a table in the middle of the terrace with views over The Empire State Buildning, Downtown Manhattan, The Hudson River and New Jersey.
It's hard to get a better overlook of New York then this. The phrase "being on top of the world" has never felt more right.
The terrace is not super big. There are dinner places for around 30 people which creates a superb atmosphere and exclusive feeling when sitting here.
Rainbow room
Dinner and service:
If the view is fantastic up here, the food is equally amazing. Wow! We decided to share some different dishes from the menu. Mini burgers, mini hot dogs, crab sandwich and fried cod. And to drink some Champagne and red wine.
We let the pictures speak for themselves. All we can say, is that everything tasted superb!
The service is also what you can expect from a fancy place like this. Fast, attentive and very polite. Our waitress was very friendly and looked after us the whole time. We never had to wait or sit with empty glasses.
That's how service at a restaurant should be like. Nothing to complain about here.
Working...
Conclusion:
Bar SixtyFive is probably the best rooftop restaurant in NYC if you like luxury and breathtaking views. You can't find any higher rooftop bar in The Big Apple and it's hard to find a better restaurant on top of Manhattan then this. Book your table in advance and dress for success – and you'll be in for a fantastic treat.
We can recommend Bar SixtyFive to everyone in New York. You will get a memory for life and some awesome pictures.
• Highest in NYC
• Great food
• Good service
• Jaw dropping views
• Fancy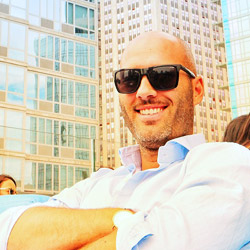 Written by:
Hans Ebenman
- Co-founder, CEO & rooftop expert at The Rooftop Guide