Aperol Spritz, white wine and chark at one of Gothenburg's best rooftop bars - Cielo Rooftop
Review
Aperol Spritz, white wine and chark at Cielo Rooftop
One of Gothenburg's best rooftop bars
Published: September 6, 2017
Lovely afternoon at one of Sweden's and Gothenburg's best rooftops, located at Hotel Bellora, on the famous street "Avenyn":
Cielo Rooftop Bar at the fairly newly opened Hotel Bellora is a roof bar we have our eyes on for a very long time. Ever since the premiere a few years ago, this place has received much attention - both in the media and among people - as one of the best rooftop bars Gothenburg has to offer. We went there to see if the hype lived up to the expectations.
Down in the lobby you will be struck by the stylish and modern decor. The same feeling seems to permeate the entire hotel and luckily, even the rooftop bar. We had reserved a table for 4 people with lounge sofas and views of the rooftops around the neighborhood.
Immediately when we sat down, we ordered one Aperol Spritz each. A favorite drink that always is a perfect choice.
When we arrived at 4:00 PM, the terrace was already filled with people who would like to drink in the sun. We were lucky to have reserved the table, because almost all seats were already occupied. After the Aperol, we ordered a bottle of white wine. Cold and dry as it should be.
To that, a better plate of charcuterie as we started to get a little hungry. The food and drinks were very good and the service top notch. Quick and attentive all the time. We never had to sit with empty glasses.
The atmosphere on the terrace was really nice and a live DJ played good music throughout the time we were there. One notice that many people come up here for some glasses, and then of to other places in the Gothenburg night. As mentioned - Cielo Rooftop is one of Gothenburg's and Sweden's best rooftop bars. Definitely worth a visit if you are visiting or living in the city.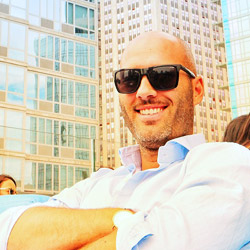 Written by:
Hans Ebenman
- Co-founder, CEO & rooftop expert at The Rooftop Guide