A fantastic day at the luxurious rooftop infinity pool at Capri by Fraser in Kuala Lumpur
Review
A fantastic day at the luxurious rooftop infinity pool at Capri by Fraser in Kuala Lumpur!
Rooftop Jacuzzis, relaxation and skyline views
Published: January 2, 2017
Private rooftop Jacuzzis, relaxation and a magical infinity pool with a superb skyline view over Kuala Lumpur. Read about it here:
We had been invited to spend a whole day at this relatively newly opened 5-star hotel, by the Marketing Communication Manager, Sharifah Laila. The Capri by Fraser's rooftop is a very big and luxurious place with both a large rooftop infinity pool, private rooftop Jacuzzis, sun loungers, a rooftop bar and a spa.
Probablby the best KL rooftop pool you can find. We arrived at the terrace at noon and were very well received by the staff that showed us up on the terrace directly.
Well up on the rooftop, we were stunned by the fantastic 360 degree view and how far you can see from here. Capri by Fraser is located in a business district a little bit outside of the city center, which means you'll get a completely different view from here than from any other rooftop bar in Kuala Lumpur.
After we had taken some photos and checked out the terrace we changed to our swimming clothes and found two super comfy sun loungers to chill down in. The perfect way to enjoy a whole day at a rooftop.
The weather was quite good with both sunshine and some clouds. Perfect conditions for a swim in the pool. We swam and relaxed in the pool for about 30 minutes before heading up to the second rooftop where they have 5 private rooftop Jacuzzis – or jet pools as they are called here.
We were all alone up here which meant we could choose which Jacuzzi we wanted. Relaxing in a Jacuzzi at this height and outside, was a very nice and luxurious experience. It really gave you a feeling of being on top of the world.
The rest of the afternoon we enjoyed in the sun loungers and the infinity pool while sipping on some refreshing coffee drinks in the heat. The terrace had a relaxed and chilled atmosphere during the whole day. In the evenings, a more lively and party friendly feeling takes over up here.
We had a fantastic day at this awesome place. We really recommend this hotel and rooftop for anyone who's going to Kuala Lumpur in the near future. Make sure to book your room at Capri by Fraser to be able to enjoy this rooftop to the fullest.
Here's some more info about Capri by Fraser and how to book a room and everything else you need to know.
And this is the place where you can find all thebest rooftop bars in Kuala Lumpur.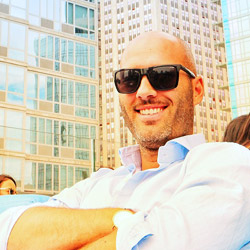 Written by:
Hans Ebenman
- Co-founder, CEO & rooftop expert at The Rooftop Guide