Amazing lamb rack and stormy weathers at Atelier M in Dubai
Published: February 11, 2017
After spending the day at the golf course where play was canceled due to sandstorms, it wasn't a great surprise that when we arrived at Atelier M they told us that the rooftop was unfortunately closed this night. Real bummer of course, but not much to do anything about. It turned out to be a great night anyway!
The rooftop that we missed out on due to sandstorm
Atelier M is located on the top levels of the Pier 7 building in Dubai Marina. Each level in the building houses a different restaurant and/or bar. Atelier M have the top three floors with restaurant on the 7th floor, the lounge one floor above and then rooftop bar on the top.
Heading to the top floor
When we arrived at the lounge-floor we were greeted by Pedro who would take care of us during the night. And he really did so with style. Super friendly from the get go and made sure we had everything we needed. Great service and our hats off to Pedro!
We got one of the tables by the window in the big circular lounge, which also has tables more towards the middle and in the middle a big bar. Every Friday they serve a sunset brunch between 6-10PM, and this was the one we went for. Due to the weather we did not get much of the sunset, but a lot of everything else.
Comfy sofas
The brunch is kind of buffet style but served at the table as cold starters, warm dishes and dessert. To this we could choose from beer, house wine and a couple of different spirits.
We started with some red wine to the starters which where sushi, couscous sallad and a nice plate with different cheese and cold cuts.
Cold starters
But the real highlight was the main course, and especially the lamb racks that were to die for! Needless to say we ordered a couple of extra rounds of these. Other than that there were some nice beef tacos, grilled chicken, shrimps and fries.
Enjoyng beef taco and lamb racks
For dessert there were some cakes and a fudge brownie and we changed drinks from wine to gin and tonic. As time passed the atmosphere started to change from really soft lounge to a bit more party, more people started to arrive and some tables were moved to create a dance floor. When speaking of the best Dubai rooftop bars for a party, Atelier M is always mentioned right here.
We took the chance to play some pool at one of the pool tables, ordered some more drinks (switched between Gin & Tonic and Red Bull Vodka, classics) before calling it a night.
Shooting some pool
All in all we had a great time at Atelier M and can really recommend a visit for the sunset brunch or just for a drink. We would love to come back and get a chance to visit the rooftop, a glance through the windows told us that the view over Dubai Marina is great, and at sunset probably quite spectacular.
The only thing we didn't really get was the big screen covering one of the windows and showing music videos but playing different music through the speakers.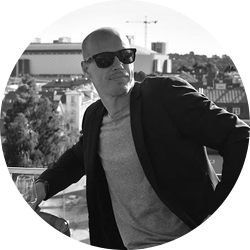 Written by:
Rikard Fredricson
- Co-founder, Creative & rooftop expert at The Rooftop Guide