Amazing food and cozy rooftop at E.P & L.P in Los Angeles
Review
Amazing food and cozy rooftop
At the E.P & L.P in Los Angeles
Published: July 31, 2017
We knew about the L.P Rooftop and when we also got recommendations from several people that "you have to try the food!" on E.P we had to go there. And we were not disappointed! This is one of the best LA rooftop bars, if you like Asian food of superb quality.
E.P is an Asian eating house and L.P is the rooftop terrace one floor up. At first it looked like out visit here would be one big anticlimax. We went to E.P & L.P after a full day of swimming, shorts and flip-flops, full on tourist.
And that was a no-go, the man at the door thought we were a bit over-relaxed in our clothing. So worth to think about, you don't have to be fancy to get in but at least somewhat proper.
But we took the rejection like champs, and next night we tried again, Uber from Downtown to West Hollywood, better clothing, mood on top. Almost anticlimax again, "ohh, I'm not sure we have any tables available…". Luckily for us they did, but another thing worth to think about, for the E.P restaurant it's definitely recommended to make a reservation.
So we went inside the large and really cool restaurant and got a table over by the kitchen where we got a good view of the chefs working. E.P is a combination of cuisines, with roots in the Thai-kitchen and tones of Chinese, Fijian and Vietnamese influences. They do recommend that you share a bunch of different plates and that is right up our alley so we went for that.
With good help and recommendations from our waitress decided on Duck Salad, Sticky Spare Ribs, Som Tum, Spiced Salmon & Dan Dan (pork) Noodle. We all had different favorites among our choices but could at least agree on that the food all in all was amazing. Super fresh, nicely presented and so nice to share along with a few beers in the great atmosphere.
We got so much in the mood we even went for a delicious chocolate filled ball as desert J The prize of the food was a bit on the more expensive side, but no rip off and absolutely worth it.
We then finished dinner off with ordering some Espresso Martinis and brought them with us one floor up to the L.P rooftop. This is a really nice roof terrace, we got up there around 10PM and the atmosphere was buzzing in a very nice way. A lot of people but still a very relaxed feel, nice decoration, some fire pits and and hanging light bulbs creating a soft light. The terrace is quite large, so even if there is a lot of people it doesn't feel cramped.
The rooftop is not that high but you still get a great view over Hollywood Hills and the houses crawling up the hill sides. We just had a couple of beers up on the terrace, but they do have a large drink menu and also serve Asian street food. And up here they don't take reservations so just drop by.
Before we left we (of course) took a couple of pictures/movies in the photo booth they had. This kind of thing is always a success and no, we will not share the results...
L.P rooftop is really a perfect place for some afternoon or late night chill, feels like a place where you might plan to just stop for one or two drinks but end up staying all night.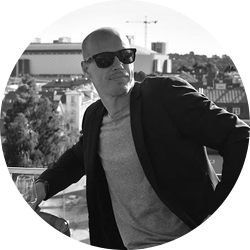 Written by:
Rikard Fredricson
- Co-founder, Creative & rooftop expert at The Rooftop Guide