Afternoon Tea at SEVVA rooftop bar in Hong Kong
Review
Afternoon Tea at SEVVA rooftop bar in Hong Kong
Delicious food, cakes, tea and Champagne
Published: December 4, 2017
Three hours of delicious food, cakes, tea and Champagne at the famous SEVVA rooftop bar:
No visit in Hong Kong without having some afternoon tea. And what better place to have it, than at maybe the most luxurious and fancy rooftop bar you can find throughout Honk Kong – SEVVA.
When entering SEVVA you should be aware that a table reservation and minimum spend is necessary. Also make sure the wear some nice clothes, as shorts is not allowed up here.
The terrace and atmosphere:
We had reserved the corner table at the end of the terrace between 3:00 PM – 6:00 PM to try the famous afternoon tea. The English culture in Hong Kong makes this a popular thing to do during the weekends.
Well up on the terrace we were welcomed with a glass of Champagne gazing out over the Kowloon skyline and nearby skyscrapers. The view here is fantastic, as you get both mighty city views regarding skyline and closeness to the nearby skyscrapers. Not many rooftop bars in Hong Kong can offer this at the same time.
Afternoon tea set:
After the Champagne we ordered the tea set consisting in a various variety of different snacks and cakes. Check out the picture below, for the full tea set menu. My personal favorites were the Sandwich rolls, Mini Burger and Foie grass waffle. Lovely taste and it matched the tea and Champagne perfectly.
Conclusion:
The SEVVA afternoon tea is a perfect thing to do during the weekend in Hong Kong. At this time during the day, the terrace is no full and you can find your self a goof table without having to book it several days ahead. After 5:00 PM, the terrace starts to fill up with people coming for drinks and pre-party.
This is also the best time for some spectacular photos, as the darkness falls, and the skyscrapers starts to light up in a colorful way. We can recommend the SEVVA afternoon tea to everybody who's going to HK, if you want a luxurious and unusual rooftop experience.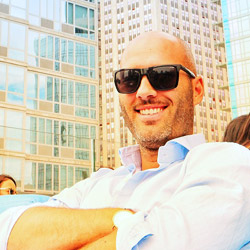 Written by:
Hans Ebenman
- Co-founder, CEO & rooftop expert at The Rooftop Guide