Afternoon cocktails at Memmo Alfama in Lisbon
Published: August 30, 2017
White wine, Aperol Spritz and snacks with a beautiful ocean view:
Memmo Alfama Lisbon is a small and luxurious 5-star boutique hotel located close to the water in Lisbon. The rooftop is only located on the 2nd floor from the lobby, but still with a fantastic view because of the high location of the hotel.
We arrived here in the afternoon for something to drink. This roof terrace in Lisbon is very popular and there was only a couple of seats available when we came here.
The rooftop is open to the public, but the rooftop swimming pool can only be used by the guests of the hotel. Our seats were just by the pool and with a great view over the Atlantic Ocean.
I ordered a glass of white wine and Ida had a classic Aperol Spritz. Refreshing and tasty. The atmosphere on the terrace was very harmonious and relaxed. Both the people, décor and feeling were in the same way. Service was quite fast and attentive which made the experience good.
All in all we liked Memmo Alfama very much. We can recommend this rooftop bar in Lisbon to everyone who's visiting the city. Make sure to be here in good time or book your table in advance, to get a seat at the popular terrace. And don't forget to check out some other rooftop bars in Lisbon here.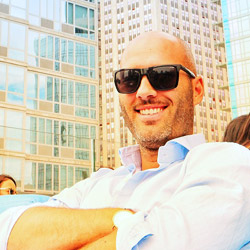 Written by:
Hans Ebenman
- Co-founder, CEO & rooftop expert at The Rooftop Guide