Afternoon drinks at Park Lisboa
Review
Afternoon drinks at Park Lisboa
Popular and hip rooftop bar
Published: August 16, 2017
Park Lisboa is one of the most famous and popular rooftop bars Lisboa has to offer. It's been around for several years and is a hotspot for people during the afternoons and evenings.
We came here during a Friday afternoon around 6:00 PM and the terrace was packed with a mixed crowd, wanting to get a glimpse of the sunset and party friendly atmosphere.
There are both one outdoor and indoor bar here. Both quite big and it's easy to order even when it's crowded. We ordered some white wine and beers.
It was very hard to find a place to sit when arriving after 5:00 PM. But after a while we found a place where we could sit, right by the edge of the terrace. The views from here are fantastic. You'll both get the sunset, ocean, bridge and skyline from here. Quite hard to beat!
The best thing about this rooftop – except the view – is the nice atmosphere. People in the ages from 20 – 70 gather here to enjoy everything the rooftop has to offer. There are both tourists, locals, families with small children and party goers.
You can't book a table here, so if you want to be guaranteed a nice place, you should try to come here early.
We liked park Lisboa very much. The atmosphere and views were top notch. The roof terrace is located on top of a parking garage, so it can be a little tricky to find the entrance. Just take the elevator to the top floor, from inside the parking garage.
And don't forget to check out some other rooftop bars in Lisbon here.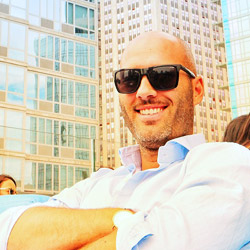 Written by:
Hans Ebenman
- Co-founder, CEO & rooftop expert at The Rooftop Guide