5 roof terraces we visited in Hong Kong!
Published: November 7, 2016
Unfortunately we couldn't manage to visit any of the rooftop pools Hong Kong, but here are the visits at 5 of the best Hong Kong rooftop bars instead.
One of the first rooftops we visited during our trip to Hong Kong was the Seafood Room. Seafood Room is a luxurious fish and seafood restaurant located in Wan Chai. We arrived quite early in the day around 13.00 so it was just us and another company on the entire terrace, which resulted in that we got hold of a really nice sitting area with views of Victoria Harbour, Kowloon and its skyline.
We directly ordered some beers and some strong chili nuts. The beer, the view and the atmosphere on the rooftop was really good and we could easily sit here all day if we had had the time. After about 45min however, we were forced to move on to the next rooftop bar.
Seafood Room
A magical rooftop bar which have most things you can expect from a perfect roof terrace. Once up on the roof terrace, we were shown to a lounge area with comfortable sofas and great views. We continued on the path of beer, which was a good decision in the scorching sun.
The view one gets from SKYE is absolutely stunning. Magnificent views of Victoria Harbour and the entire skyline. We tested some different seatings on the terrace, both in the lounge area, the bar and in the shade.
After two beers, some water and snacks, it was time to move to the next rooftop bar where we had booked a table at 16:00.
SKYE
SKYE
SKYE
S E V V A is a famous rooftop bar in Hong Kong who often figures in various article and top lists. Here we had reserved the best table on the entire terrace with help from the crew at S E V V A. Once we came, however, some problems arosed when they didn't allow shorts for guys.
One person in our party had shorts and first they would not let us in. After some persuasion we got a blanket to obscure the bare legs. Quite ridiculous, I think, but we had to adapt to the rules.
The lounge area we got was absolutely magical in the corner of the terrace with views of both Victoria Harbour, Kowloon and the nearby skyscrapers. Really impressive! Here we ordered in various different Asian dishes and lots of beers. Unfortunately, the service was pretty non-existent and quite slow, but we forgot it quite quickly because the view and the nice atmosphere on the terrace was outstanding.
3 hours later, it was time to move on to the hotel.
S E V V A
The crew at S E V V A
Cheers from S E V V A
A fairly small and simple roof terrace that we chose to visit after our Champagne Brunch. Mainly because they get Hong Kong's coolest skyline views from here. We had timed the visit perfect to get both daylight, dusk and darkness of the night, resulting in lots of cool pictures. Hong Kong is best looking just at dusk when the city turns into a beautiful color spectacle when all the skyscrapers light up.
Eyebar
Cheers from Eyebar
Unfortunately, we had booked a table for lunch here already our first day in HK. A day when the typhoon Haima struck the city, which meant that you could not stay outdoors. However, we could enjoy a good lunch in the sky bar with roof above our heads and views of Victoria Harbour.
The lunch consisted of appetizer buffet, dessert buffet and oysters. Everything of very good quality and it was with full and satisfied stomachs, we went further to play some pool the remaining hours of the afternoon.
A typhoon outside the window at ToTTs Roof and Terrace
Fantastic oysters at ToTTs Roof and Terrace
Here you'll find the best roof terraces in Hong Kong. Hong Kong is one of the worlds best cities when it comes to roof terraces. We are already looking forward to our next trip here.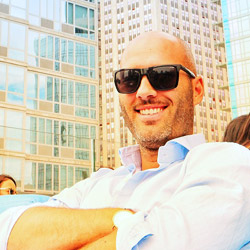 Written by:
Hans Ebenman
- Co-founder, CEO & rooftop expert at The Rooftop Guide