5 hours of drinks, food and magnificent views at Level 43 Sky Lounge
Review
5 hours of drinks, food and magnificent views at Level 43 Sky Lounge
>A long and fantastic evening at one of the coolest rooftop bars in Dubai
Published: February 4, 2017
Level 43 Sky Lounge was one of the first rooftop bars we decided to visit in Dubai. The crew from Level 43 and the hotel Four Points, had set up a super nice table at the corner of the terrace for us. As we had heard that the sunset from hear was supposed to be something special, we had the table from 5:30 PM. In this way we would get both daylight, sunset and darkness.
The seats were located in the corner of the terrace, overlooking the mighty skyline in one direction and the ocean in the other. The skyline view from here is really impressive, with the world's highest building, Burj Khalifa rising up in the sky. And out over the ocean we saw the sun set in a majestic way.
This is probably the best view you can get from any of the best rooftop bars Dubai has to offer.
Daylight
Sunset
Skyscraper lights
Enough about the view, now over to the drinks and food. A favorite drink for The Rooftop Guide crew has always been the Aperol Spritz. And that's what we started out with. It was as good as it's always is. Refreshing in every way.
To the drinks we ordered some lobster burgers with fries and dip sauces. The first time I ever had a lobster burger, and it tasted very good. After the food we decided for some coffee drinks, and what is better for that, than the Espresso Martini.
Lobester burger and Aperol Spritz
Lobster burger with a view
Corner seats with amazing skyline view
We really liked the cocktails and ordered in more and more drinks as the evening progressed. The sun had set and darkness began to come, which created a fantastic skyline view with all the lights from the mighty skyscrapers.
Perfect spot for 2 persons
The atmosphere on the terrace was super nice, with a live DJ playing modern party tunes as people sat and enjoyed the view and the drinks. We had a fantastic evening here that began at 5:30 PM and ended around 11:00 PM. Over 5 hours of cocktails, food and magical views.
We also have to give credit to the amazing staff that held a high service level throughout the whole evening. Fast and attentive service from everybody. Great work!
Find out more about Level 43 Dubai, with booking links, opening hours, dress code and much more.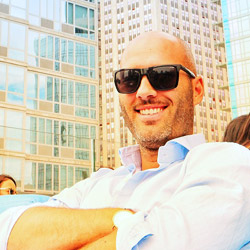 Written by:
Hans Ebenman
- Co-founder, CEO & rooftop expert at The Rooftop Guide