4 roof terraces in Budapest - with varying quality
Visit
4 roof terraces in Budapest - with varying quality!
From stunning views and tasty drinks to hair in the beer and own mixed grogs
Published: September 9, 2016
Here's our caption of 4 great roof terraces in Budapest. All the rooftops in Budapest can be found on this page. The first evening in Budapest was spent on two roof terraces. We started with the one that on beforehand seemed to have the best view:
Here we had booked a table at 18 o'clock for some good drinks before our dinner at a restaurant in the neighborhood. The bigger part of the terrace was unfortunately fully booked for a wedding, but the places with the best views were vacant luckily. We got a table right on the patio and took a direct look at the drink list.
A strange drink list without any signature cocktails. You had to determine a kind of spirit, and something to mix it with. We tried to order Gin Tonic, Aperol Spritz and the most common classics, but the rooftop bar was unable to fix these drinks. Instead, we got 2 plastic glasses, 2 small Finlandia vodka bottles and 2 cans of Coke. And then you had to mix the drink by your self – without any ice.
The drink was additionally warm which made it feel as if you sat and mix a grog in a living room when you were 17 years old. A clearly unusual experience for being on a rooftop bar.
Nice view from Fisherman's Bastion.
Own mixed grogs. Yummie :)
When we had drunk up our grogs, we ordered a beer. No idea to order advanced stuff here we thought. Unfortunately, Rikard's beer contained a large and long hair straw. And once we try to pay the bill they did not take cards. So we had to take a half long rush down to the square and pick out some cash.
Not much that was in order here unfortunately. What you can give the Fisherman's Bastion was the absolutely stunning views. Perhaps the best in whole Budapest.
The magical view again.
It became a spontaneous visit here, because the rooftop bar was on the way to our hotel from the restaurant we have just been on. Raqpart is a boat with two floors situated in the river that divides Budapest. It would appear that the roof terrace was a real nice party place.
We managed to talk ourselves into the terrace, with the promise that we would write a bit about our visit here on our blog. We ordered some Vodka Redbulls in the bar. 2 ingredients in the drinks seemed to be the thing this particular evening. At 02 pm we had had enough and wobbled back to our dear Aria Hotel. A nice rooftop bar if you like party.
Vodka Redbull at Raqpart.
A rooftop many of our followers had tipped us about. So we decided to visit the rooftop 360 around 14 o'clock for some nice afternoon cocktails. 360 is a very popular rooftop in Budapest and it turned out that we were right who went there fairly early in the day.
We got hold of a really good table with a lovely view of the whole of Budapest. An hour after we arrived the entire rooftop was filled with people, and people were waiting to get a table. Here, we ordered a few cool signature cocktails, which we enjoyed in the heat. And hot it was. Without the umbrella we had probably melted in the sun.
Rille enjoying his drink and the view.
Soft in the shadow.
One of the rooftop bars signature cocktails.
Perhaps one of the worst rooftop bars we have ever visited. I do not know if we had bad luck or what it was, but everything felt really trashy and inharmonious here. After much searching we found the elevator by a gaming hall and then out in a dark alley with red drapes on the sides. Around here somewhere, we thought we would be murdered.
But once through the alley, we reached the rooftop bar. The clientele here was much younger people. We got a table next a 30th birthday party which made the service felt very bad for us. We just had a drink here before we went down to the ground level where we found an awesome wine bar to hang on the rest of the evening.
Budapest had some highs and lows regarding the rooftop bars. However, in its entirety, you can get absolutely fantastic views and rooftop experiences here.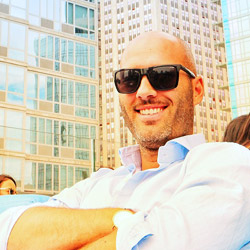 Written by:
Hans Ebenman
- Co-founder, CEO & rooftop expert at The Rooftop Guide