21 lovely and relaxing hours at the must visit Steam Hotel in Västerås
Review
Review:
21 lovely and relaxing hours at the 'must visit' Steam Hotel in Västerås
Amazing all around
Published: September 17, 2018
If every day could be a day in a green bathrobe at Steam Hotel, then the world would be a better place. At least for the lucky ones in bathrobe.
Steam Hotel is located a bit outside the city center of Västerås, about an hour from Stockholm. This 'steam factory turned into spa-hotel' opened its doors in 2017, and we have been longing to go there ever since. Mainly because of the rooftop pool and sky bar, but also because of all great things we have heard about the hotel.
A Saturday in early September the time had finally arrived, and it turned out to be some lovely 21 hours with pure relaxation, mixed up with party vibes, great food and drinks, fantastic views. And a lot of time spent in a wonderful, green bathrobe. Here it goes:
Saturday, September 1, 2018
14.03 - Lucky to get a bit of an early check-in. When stepping in to the large and bright high ceiling reception you straight away get a feeling of modern meeting the old time industrial. A lot of the details from the factory-time are still there, creatively used and beautifully blended with stylish and modern furniture. And if the line to check in is long, no worries, there are ping-pong tables to keep you busy.
Check in / check out / play
14.10 - Stepping out of the cool and rustic elevators and in to our 9th floor room. What a beauty! Industrial-chic with pink walls, retro style furniture, attention to all details, a fully tiled modern bathroom with rain shower and the most beautiful view over Lake Mälaren. Very cosy and romantic.
Oh yeah, and then there is also a the welcoming package of green bathrobe and slippers waiting for you. Vital for the rest of the stay.
The green goods
14.20 - Putting on the Green Heaven (aka bathrobe) for the first time.
14.25 - Popping up the welcome bubbles waiting for us at the room. Really nice touch! Enjoyed best in soft robe in soft bed.
15.00 - Taking the elevator to the 7th floor and the first crown jewel of Steam Hotel: the Voltage Lounge Spa & Rooftop. Described by the hotel as "not your traditional spa, but a place for chilled hang outs, nice snacks, bubbles and perfect music."
We checked in at the Voltage reception (you must book a package to gain access), got some towels and a brief presentation about the facilities. Then we were shown to the lockers available, where you can shower and put your valuables.
Started off with the main attraction up here; the outdoor terrace. Early afternoon and the terrace was very calm and we could freely check it all out. And it is really something special! First you find the indoor winter garden, with a fantastic looking bar, cosy lounge sofas and large windows out towards the lake.
And stepping out to the terrace you find some more sun loungers, lounge sofas, bar stools and the magnificent heated rooftop pool. Blending in with the lake both in views forward and with the large windows behind, creating lightful reflections.
Winter garden
Winter garden
Voltage bar
Both robe...
...and heated pool works magic with cloudy skies
16.10 - Trying the indoor relaxation. Since the weather was a bit cloudy it seemed like a perfect time to head inside and check out the other parts of the Voltage Lounge. And it really is like stepping into another world. From open airy views to almost complete darkness, with just some candle and dim lights. Definitely another type of relaxation.
In here you also find a very nice heated pool, along with a very large sauna, complete with speakers playing some funky tunes.
Indoor pool
17.20 - Stepping out to the light, finding the sun and a Saturday rooftop party. By this time, the terrace had really transformed. Both the rooftop pool and almost every seat on the terrace was filled, green bathrobes hanging everywhere, champagne flowing and the vibe on top.
So had little options but to get in the mood! If you want a more quiet experience my guess is that weekday evenings is a better option. But I really liked this atmopshere, nothing over the top, just friendly and fun.
Apart from bubbles the menu also offers some wine and beer and a few cocktails. We went for cocktails, which where well made and tasty, the only downside beeing that since you are poolside it comes in a plastic glass.
Sun setting over Steam
18.50 - Trying to stay awake in the open fire room. There was still one spot to try at the Voltage Lounge, and it was probably the most relaxing of them all. Quite "simple" in a sense, with just about ten beds surrounding a large fireplace in the middle, more like a winter cabin feel. But really made to perfection, and with soft green robe on it was just pure inner peace laying on a bed watching the fire.
19.45 - Peeking into the large and well equipped gym. So yeah, we where there.
20.00 - A bit reluctantly taking of the green robe, but rewarded with a great rainfall shower. Happy to find that the room comes with an ironing set, so no problem looking sharp for the night.
20.58 - Rushing to restaurant.
21.00 - Arriving at restaurant, which in this case was the second crown jewel of Steam Hotel: Locavore Sky Bar & Restaurant, located on the 18th and top floor of the hotel. Up here you find a large round cocktail bar, which together with the view at display, probably is one of the most stylish bars in Sweden.
Apart from the bar there is also a garden house lounge (almost feels like it's outside) and the large restaurant area. For the restaurant you usually need reservation, but the bar is first come, first served.
Locavore Sky Bar
Garden house lounge
21.05 - Saturday night and the sky bar and restaurant was buzzing with people, so had to wait a while before being shown to our table. We were then greated by our very friendly and knowledgeable waiter, who told us about the setup for the night.
Locavore is a mainly Asian inspired restaurant, focusing on smaller dishes that are perfect to share. You can go for á la carte, but we had the (highly recommended) Omakase-menu, meaning that the chefs pick five or six favourite dishes for you. For a complete freedom feel we also went with a drinking menu.
As dishes and drinks came and went we could determine that dinner was really superb! Started of with a glass of champagne, some steamed edamame in lime & garlic and (maybe the best dish of them all) rice chips with trout roe & sour creme. Delicious!
After an just ok salad of asian greens with avocado & coconut, drinks were swapped to a nice red wine and food to an amazing salmon taco with soy mayo, chili & melon. This was followed by a tender, tasty but quite heavy ox cheek with black garlic & sesame mayo, before dinner was topped off with a fresh black sesame ice cream with fresh raspberries, beetroot & mint along with a very tasty and strong dessert cocktail.
Locavore Restaurant
Steamed edamame
Rice chips with trout roe & sour creme
Salad of asian greens
Salmon taco
Salmon taco
Ox cheek
Black sesame ice cream with fresh raspberries
All in all a great dinner, with lots of different and exciting flavours, all very nicely presented and with a great service. During dinner the atmosphere in the restaurant was quite high, and when we left alot of people was still coming up to the sky bar to enjoy a night out with live DJ (which they have at Locavore every Friday and Saturday).
23.30 - Done with dinner, heading back to the room, green robe on straight away for some soft chilling.
23.45 - Snuggle down in the incredibly comfy bed, thinking "why do I not have a bed like this at home" and fall asleep long before being able to answer.
Sunday, September 2, 2018
07.00 - Don't really wanna leave the bed, but hey, the sun is shining.
Great wake up view
7.35 - With the early birds at breakfast (starts 7.30 on weekends), which is served at the ground floor restaurant Chamberlin. Large and fresh buffet with most things you can wish for, and as with everything at the hotel, very nicely presented.
09.00 - Back in bathrobe and back on the 7th floor for Lovage opening and morning session by the pool. Different hotel packages might give you access to the spa either at night or in the morning, but we where lucky enough to have full access during our whole stay. And the setting at the outdoor terrace during morning was completely different compared to the night before.
For a couple of hours we had it (almost) to our selves and could enjoy the sun, the pool and absolute harmony.
10.00 - Enjoying the 50th glass of water from the very strategically placed and very appreciated water dispensers around the hotel.
H2O
10.55 - Reluctantly hanging the green bathrobe on the hook.
11.05 - Check out.
Conclusion
The 21 hours we spent at Steam Hotel were really amazing and some of the best in a long time. Would recommend a visit here to everyone, especially if you want to treat yourself something special. With friendly service all around, two restaurants, a sky bar, large and lovely spa area and beautiful rooms, there is really no need to leave the hotel during a one day stay.
Worth nothing is that you can choose between alot of different packages at Steam Hotel, to best suit your desire and needs. Early or late night at Voltage Lounge Spa (closes at 23.00)? Early or late dinner, tasting menu or not, Locavore or Chamberlin? It is all up to you.
If you are visiting with kids you can also by packages that gives you full access to the next door waterland 'Kokpunkten'. Just remember to try and plan your visit well in advance, as Steam Hotel is a very popular destination.
• Amazing spa area
• Heated rooftop pool
• Sky bar with Asian restaurant
• Beautiful industry-romantic style
• Attention to all details
• Great and friendly service
• Softylicious green bathrobe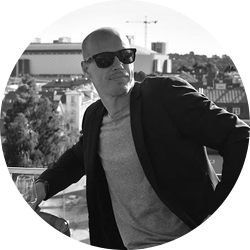 Written by:
Rikard Fredricson
- Co-founder, Creative & rooftop expert at The Rooftop Guide