20-course lunch at Europe's highest rooftop bar - SushiSamba in London
Review
20-course lunch at Europe's highest rooftop bar - SushiSamba in London!
Test pilots, tons of Sake and Londons best view
Published: May 24, 2016
The table was booked for 1:00 PM, but after a nice workout at the gym at the hotel in the morning, we felt hungry already at 12 PM. The staff solved it without problems and fixed one of the best tables for us directly. SushiSamba is Europe's highest rooftop bar located on the 38th floor and when we step out of the lift we were met by absolutely stunning views.
The restaurant manager Edvinas introduced himself to us directly and announced that we would be "test pilots" for their new menu. It sounded damn good and we said yes without any expectations. We were perhaps expecting to taste some smaller dishes or something like that.
But at the first serving we knew it would be something special. It came in plates from all angles, with one delicacy after the other. Sashimi, squid, dumplings, lobster tacos and much more. Carafes of sake was flowing and sometimes a glass of Champagne came in, in the middle of everything. The only thing we talked about was something like: "Damn this was delicious" or "Can I take the last piece of that thing" and so on.
Food and drinks from all over the place.
After about 8 different dishes we nodded in agreement with each other that this was probably some of the best food we've ever tasted. And the next moment round two came in. What?! Even more food? - We thought ... this was too good to be true.
Although we already had shared 8 dishes, there was still room left in our stomachs. Round two consisted of egg-sushi with truffle cream, Kobe bacon, lamb, grilled black cod, ribs, etc. And as we just said to each other that now we probably won't be able to eat more food, it came in a whole plate of different sushi pieces.
Rikard looked at me and mumbled, "damn, we have to eat it. Feels a little unpleasant to leave food." So we fought on and sushi pieces were so amazingly good that we ate all of them.
Some of the dishes we had.
Kobe-bacon with broccoli and meat. YUMMIE!
Amazing sushi!
We both chilled down in our chairs and each took a big gulp of Sake. We started do count the dishes and agreed that we had eaten 16 different dishes in total. It's absolutely sick, I said. And Rikard responded by "now we probably do not eat more today".
Here we sat and enjoyed the view (which we almost forgotten among all the food). After about 10-15 minutes' chef Claudio came out and talked with us about the menu, their mindset where they lie emphasis on good ingredients, environmental compatibility and so on. Claudio had worked as a chef in the whole world since he was 12 years old. We commended his food and told him that we probably won't need to eat in a couple of days. Claudio responded immediately, "Really? We have prepared four desserts for you".
Will we be able to eat all this... Of cource we will :).
Rest and after dinner drinks.
Rikard looked almost terrified, and both Claudio and Edvinas began to laugh a little. OK, bring we both shouted out. 10 minutes later there was a large plate with 4 different desserts on our table.
All of them were so fantastic and good that we almost eat them all. The entire kitchen was impressed with the strength of our appetite and we too were shocked that we managed to eat everything we were served.
38 fllors up with views over entire London
Rille is feeling good at the terrace.
Finally, we sat down in one of the terrace's lounge sofas, with one Espresso Martini each and just stared at the view. The view was as good as the food tasted. 10 Rooftops of 10 possible! Everything was tiptop. The service, the food, the drinks, the view and comfort. A memory for life!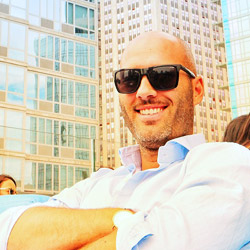 Written by:
Hans Ebenman
- Co-founder, CEO & rooftop expert at The Rooftop Guide